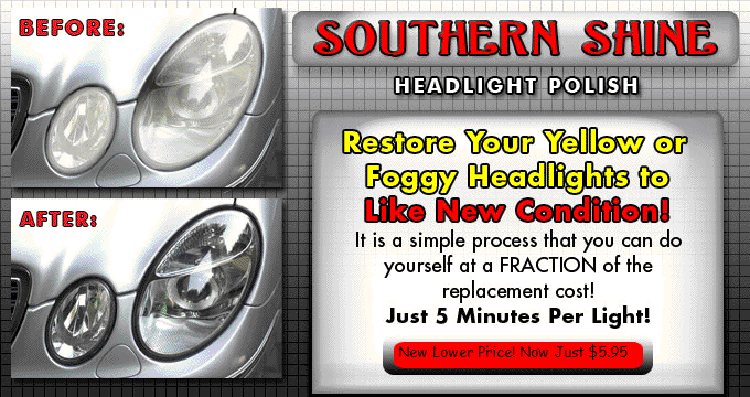 Dull Yellowed Headlights?
I am a former salvage yard owner/operator. I lost so many sales of headlight assemblies because of them being yellowed and hazed over. I have tried so many different products for this. Most are acid bases that "etch" the plastic in a 2 step process.I bought every headlight cleaner/polisher that I found in every magazine we received. They never did the job well enough to really call resalable. I'm sure you have tried these products. They give you Playtex gloves and warn you about touching it to your skin, or you have to have a drill or buffer to clean them.
Well that's too much like work just to sell a used part. I don't like doing anything for more than 5 minutes. So I got together with a customer of mine who owns a small chemical company. We worked out a formula that makes cleaning these types of headlights so easy you could get your 5 year olds to do it.
I have been selling these on eBay for about 1 year now and I have 100% positive feedback on them.
(click here to veiw feedback)
It also works well getting rust stains off of tail lights and marker lights.
I did the headlight you see pictured in less than 2 minutes. I am ADHD so that is perfect for me.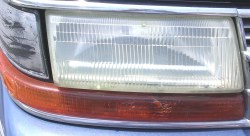 Works great on Brass, Copper, Stainless, Glass, Plastic and much more. Got a scratched CD or DVD? Most often it will restore like new.
$5.95 Plus $4.95 Shipping per 2oz bottle in kit
Now in a multi car 8oz Bottle also.
$19.95 Plus $4.95 Shipping
Case of 25 2oz Bottles
$99.95
Case of 10 8oz Bottles
$159.95 Plus Shipping
HEADLIGHT CLEANER/POLISH
RENEWS & RESTORES
You can read all about it, but it is the only product I have found that works.
If you want to order some just fill out the form and we can send it right away.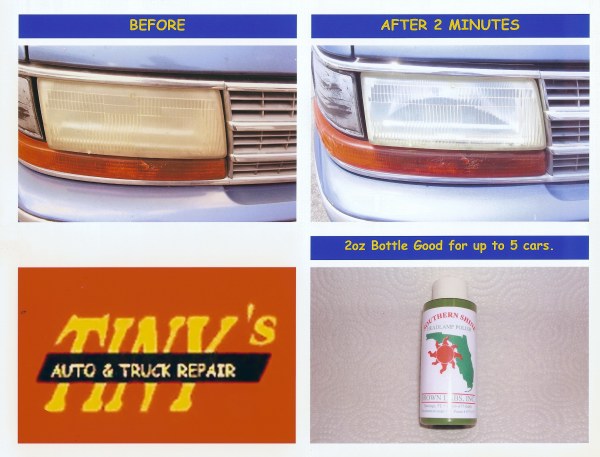 ONE STEP PROCEDURE
2oz Bottle and Polishing Cloth
NO HARMFUL ACIDS INVOLVED
YOU DO NOT NEED TO WEAR LATEX OR RUBBER GLOVES!!!!!
Save hundreds over buying new headlights! Find out how car dealers clear the headlights on their used cars to maximize resale value!
INCREASE THE VALUE OF YOUR CAR OR TRUCK!
Have more safety and peace of mind when driving at night! This product will improve your night vision greatly (up to 95% improvement instantly)! Professionals charge $80 and up to do this! - SAVE BIG Do it yourself!
1. Restored headlights will improve the look and value of your car. Auto dealerships know this and have been using it for decades on their cars!
2. It will increase your vehicle trade-in value and make it easier to sell!
3. It will save you hundreds over new replacement headlights!
4. It will make your car a lot safer according to AAA!
5. It works on all cars that have sealed plastic headlamps; Toyota, Honda, Ford, BMW, Chevrolet, Buick, Cadillac, Chrysler, Dodge, etc.
An average of 9 out of every 10 cars on the road today has dirty or yellowed headlights that greatly reduce vision and need to be replaced or professionally cleaned. - AAA Foundation for traffic safety
Tiny's Auto & Truck Repair believes we sell the best and easiest headlight cleaner/restorer on the market at the best price! We stand behind our product with a 100% guarantee!
This process involves removing the opaque, yellow, gray, or crazed plastic from the lens face, and then, compounding and polishing the plastic back to clear. There are no secret chemicals, just professional grade chemical in a professional quality kit. You don't need an electric drill, you can refinish your lenses with Southern Shine Headlamp Polish. Front to back by hand, the process takes under ten minutes per lens with average haze, and on completely opaque/clouded lenses, never more than thirty minutes per lens. And, we offer a 30 day money back guarantee. The guarantee is simple. If Southern Shine Headlamp Polish does not perform as promised, we will refund your purchase price.
We thank you for your interest and look forward to helping meet your restoration needs
$5.95 Plus $4.95 Shipping per 2oz bottle in kit.
Now in a multi car 8oz Bottle also.
$19.95 Plus $4.95 Shipping
Case of 25 2oz Bottles
$99.95 Plus Shipping
Case of 10 8oz Bottles
$159.95 Plus Shipping
Click the button and you can see clearly at night again...
Send mail to
E-MAIL
with questions
or comments about this web site.
Copyright © 2011 Tiny's Auto & Truck Repair Service
Last modified: 06/12/2005
The page's
WebCounter
count says that you are visitor number