|
home
Chassis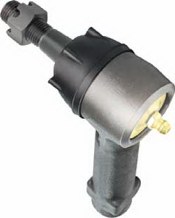 Does your Astro Van steering wheel shimmy when you hit potholes? This is because GM has an inferior Idle Arm assembly on these vans. I have changed more Astro Van Idler Arms then all the other model together. I always use the Moog M2 Technology. It lasts 3 times as long as the factory ones and costs about the same.
Most people get over sold on front end or chassis work. We check front ends for wear on every oil change and tire rotate we do. About 5% of the cars may need so work. So remember to ask the tech to check the front end when you get you vehicles oil change or tire rotate done.
Driving NASCAR Champions To Victory
The choice of NASCAR Winston Cup champions for 35 consecutive years, Moog Chassis Parts is the automotive service industry's premier brand of replacement steering and suspension components.
Moog products are engineered to improve on original equipment technologies, solve real OE problems and make installation easy. Now featuring M2 Technology, Moog products deliver better steering response and durability than ever before.
Send mail to
E-MAIL
with questions
or comments about this web site.
Copyright © 2011 Tiny's Auto & Truck Repair Service
Last modified: 03/11/2003