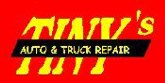 |
home
Al Schill Jr.
Al Schill Jr., who followed his father into stock car racing at 16 and became a frequent winner at area tracks, was found dead in his garage.
One day after a second-place finish at Rockford, Ill., the 24-year-old Schill was found by his girlfriend. She was awakened by a carbon monoxide detector, the Racine County Sheriff's Department said.
After the race in Rockford, Schill celebrated with family and friends and returned to his town of Norway home about 2:30 a.m.
Schill stayed in his car to listen to a song on the radio while his girlfriend went to bed, the statement said. She was awakened by the detector about 6:30 a.m. and found him in his car, which had its ignition shut off and the radio on.
Send mail to
E-MAIL
with questions
or comments about this web site.
Copyright © 2011 Tiny's Auto & Truck Repair Service
Last modified: 03/11/2003