Moms Eulogy
I want to thank everyone for being here.
Everybody who is friends of all us kids called her Mom. You were all her children.
I was told by Pastor Jim to write something down incase I got upset he could finish for me. Well you all know me better than that. I say what comes to mind at the moment. Sometimes its good..... sometimes its .... well not so good. I don't have the filter that takes out the bad stuff. It is what makes me, ME. Well I got here this morning knowing that something would find its way out of my mouth, and I was hoping it wouldn't get me in trouble. Well like my Dad always said "Jimmy, you could fall in a pile of crap and come out smelling like a rose." I'd like to thank Brian O'Neal for giving me this poem. He said it sounded like Mom and he was right. It goes like this.............
If Tomorrow Starts Without Me........
If tomorrow starts without me
And I'm not there to see,
If the sun should rise and find your eyes
All filled with tears for me;
I wish so much you wouldn't cry
The way you did today,
While thinking of the many things,
We didn't get to say.
I know how much you love me,
As much as I love you,
And each time that you think of me,
I know you'll miss me too;
But when tomorrow starts without me,
Please try to understand,
That your father came and called my name,
And took me by the hand,
And said my place was ready,
With him far above,
And that I'd have to leave behind
All those I dearly love.
But as I turned to walk away,
A tear fell from my eye
For all my life, I'd always thought,
I didn't want to die.
I had so much to live for,
So much left yet to do,
It seemed almost impossible,
That I was leaving you.
I thought of all the yesterdays,
The good ones and the bad,
I thought of all the love we shared,
And all the fun we had.
If I could relive yesterday,
Just even for a while,
I'd say good-bye and kiss you
And maybe see you smile.
But then I fully realized,
That this could never be,
For emptiness and memories,
Would take the place of me.
And when I thought of worldly things,
I'll miss come tomorrow,
I thought of you, and when I did,
My heart was filled with sorrow.
But when I walked through heaven's gates,
I felt so much at home.
When God looked down and smiled at me,
From His great golden throne,
He said, "This is eternity,
And all I've promised you."
Today your life on earth is past,
But here your life's brand-new.
I promise no tomorrow,
But today will always last,
And since each day's the same way
There's no longing for the past.
You have been so faithful,
So trusting and so true.
Though there were times
You did some things
You knew you shouldn't do.
But you have been forgiven
And now at last you're free.
So won't you come and take my hand
And share my life with me.
So when tomorrow starts without me,
Don't think we're far apart,
For every time you think of me,
I'm right here, in your heart.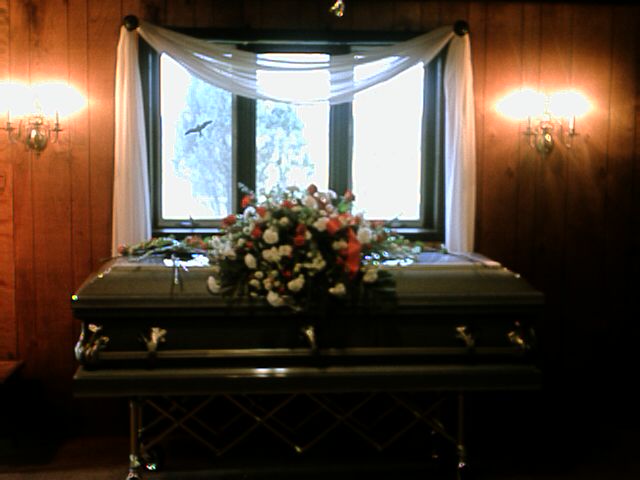 We all love you Mom!
Thank you all again.
That is all......
Send mail to
E-MAIL
with questions
or comments about this web site.
Copyright © 2011 Tiny's Auto & Truck Repair Service
Last modified: 03/11/2003