Nicolas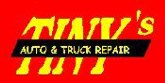 |
home
Ormond boy hit by van, dies
By PATRICIO G. BALONA
Staff Writer
Last update: 24 August 2003
ORMOND BEACH -- James Anderson cannot believe his 5-year-old stepson, Nicholas Riconosciuto, was struck by a van and killed in front of the family home Saturday morning.
The spunky 5-year-old, who always had a smile, will live in his memory as the stepson who willingly accepted him as a father, Anderson said.
"His mother and I got married two weeks ago. When I said 'I need my son right here with me, Nicholas raised his hand and said, I'm here,' " an emotional Anderson said Saturday night.
Nicholas was playing across the street from his Linda Avenue home with 10-year-old Ashleigh Howard at 9:50 a.m., said Florida Highway Patrol Trooper Raymond Steele. He ran after Ashleigh, attempting to cross Linda Avenue from east to west, when he was struck by a northbound van driven by Douglas Sonelan, 30, of Ormond Beach, Steele said.
"He was hit here," Ashleigh said Saturday night, pointing to an X inside a white circle on the pavement, "and he flew into air and fell there by the white arrow."
Nicholas was not breathing and did not have a heartbeat when county fire and EVAC paramedics arrived at the scene, said EVAC spokesman Mark O'Keefe. Paramedics worked to resuscitate the boy, but he was pronounced dead upon arrival at Halifax Medical Center, O'Keefe said.
Charges against Sonelan, if any, are pending an investigation and vehicle inspection.
Sonelan himself was seriously injured in an accident in West Volusia later Saturday, said FHP Trooper Kim Miller. Sonelan was riding in the back of a pickup on Lake Winona Road near State Road 40 when it ran into a mud puddle and flipped over, Miller said.
Three other passengers in the back were thrown clear, but Sonelan was pinned under the truck. The three friends lifted the truck off Sonelan, and he was transported by EVAC ambulance in serious condition to Halifax Medical Center, Miller said. The driver and a front seat passenger escaped injury. The other passengers were transported with minor injuries to Florida Hospital-DeLand, Miller said.
Nicholas' family is painfully coping with the loss, said his grandfather Al Van Pelt, as sympathizers streamed up the porch to embrace Anderson and other family members. Van Pelt said Anderson and his wife were inside the home when Nicholas was struck.
The 5-year-old started school at Pathways Elementary in Ormond Beach two weeks ago, Van Pelt said. Recently, Van Pelt and Nicholas vacationed at a cabin in the Smoky Mountains in Tennessee, he said.
He can picture his grandson running to get his favorite blue toolbox to fix his bicycle, Van Pelt said.
"I am devastated," Van Pelt said. "He was the love of my life. He was the light of the neighborhood."
A bundle of carnations leaned against a stump off Linda Avenue on Saturday near the spot where was hit.
We love you Nicolas.........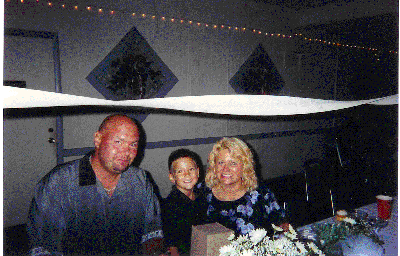 Our Wedding Day
Tiny, Nicolas and Marie
08/09/2003
Fly
Fly, fly little wing
Fly beyond imagining
The softest cloud the whitest dove
Upon the wind of Heaven's love
Past the planets and the stars
Leave this lonely world of ours
Escape the sorrow and the pain
And fly again
Fly, fly precious one
Your endless journey has begun
Take your gentle happiness
Far too beautiful for this
Cross over to the other shore
There is peace forevermore
But hold this mem'ry bittersweet
Until we meet
Fly, fly do not fear
Don't waste a breath don't shed a tear
Your heart is pure, you soul is free
Be on your way don't wait for me
Above the universe you'll climb
On beyond the hands of time
The moon will rise the sun will set
But I won't forget
Fly, fly little wing
Fly where only angels sing
fly away, the time is right
Go now, find the light
Jean-Jaqes Goldman & Phil Gladston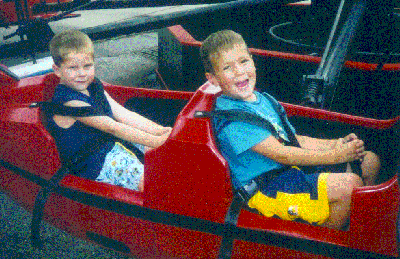 Dan-Dan and Nicolas
July 2003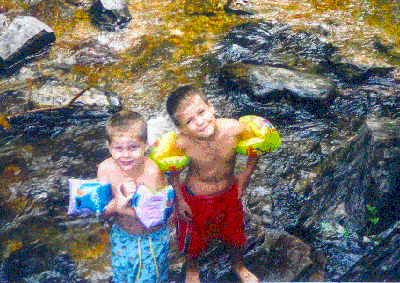 Best Friends
Dan-Dan and Nicolas
July 2003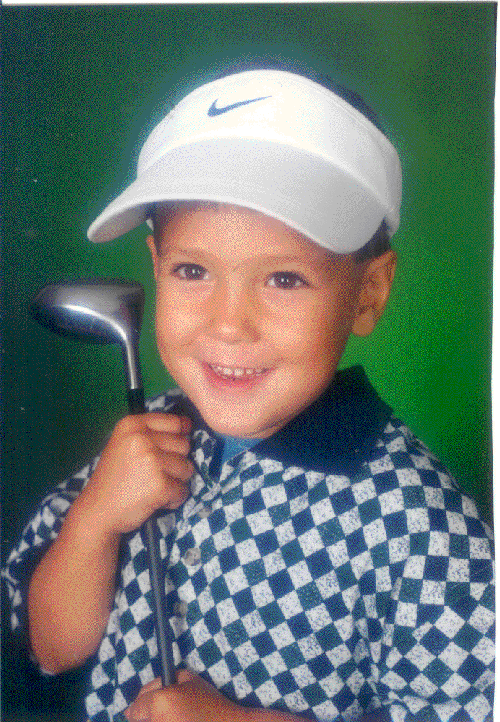 2002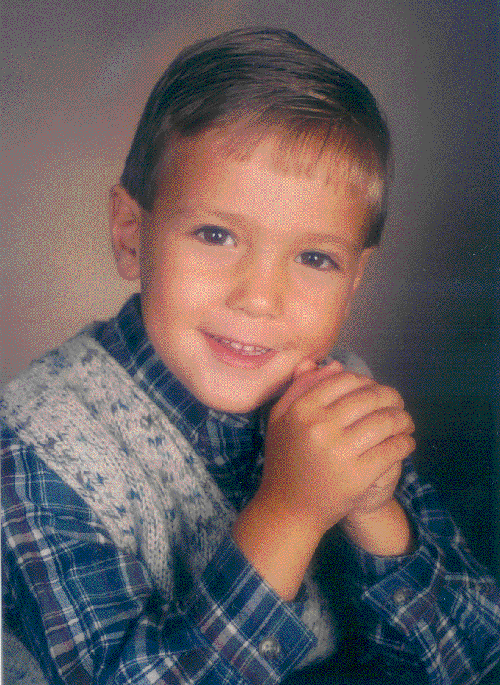 2002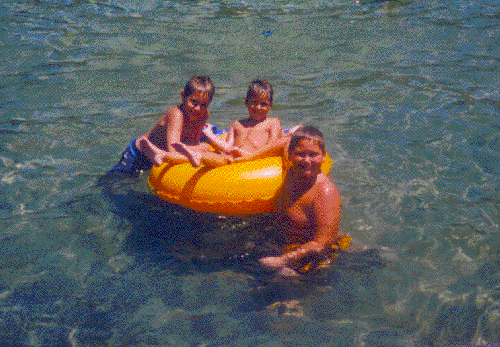 Ryan Nicolas and Josh
Nicolas Riconoscuito
MAY 26, 1998 -- AUG. 23, 2003
ORMOND BEACH -- Nicolas Riconoscuito, 5, of Linda Avenue, the son and stepson of Marie and Tiny Anderson, Ormond Beach, died Saturday after being hit by a van on Linda Avenue.
Nicolas, a native and lifelong resident of Daytona Beach, attended kindergarten at Pathways Elementary School. He graduated from Calvary Christian Academy Preschool. He enjoyed Hot Wheels, tools and racing cars.
Additional survivors include his father and stepmother, Anthony and Kenndal Riconoscuito, Washington; six brothers, Mark, Ryan, Joshua, Anthony Jr., Big Ryan and Bret; two sisters, Richelle and Dawn; and his grandparents, Al and Cally VanPelt, Ormond Beach. Memorial donations may be made to SouthTrust Bank c/o Slow Down for Nicolas, 400 W. Granada Blvd., Ormond Beach, FL 32174. Ormond Funeral Home is in charge.
Send mail to
E-MAIL
with questions
Copyright © 2011 Tiny's Car & Truck Repair LLC Inc
Last modified: 08/30/2003