|
home
Richard Petty Driving Experience
My day at the Richard Petty driving Experience.
I received a phone call from Mike Monahan of
The Parts House
which is our primary warehouse we purchase parts from. He asked me if I would like to go to the
Richard Petty Driving Experience
on Saturday July 29 2006. I was stunned and almost didn't answer. I have dreamed of doing this for a long time. He told me it was sponsored by
Timken Bearings
and they had covered all the costs. I couldn't pass this up for anything.
I arrived at 12 noon on July 29 2006 to the famous Daytona International Speedway. I was apprehensive about it and worried that being 6'6" 300 lbs would end my day before it began. But they assured me they had a uniform to fit as long as I could get in and out of the car window space that measured 15"x30". I told them if my whiskers fit I would fit.
They checked us in at 12:30 and gave us a short but intense schooling on how to follow the lead car and what to expect from our day. Then we suited up. The driving suit they gave fit so I was already over 1 obstacle that had me worried. Next they brought us down to the track and split us into small groups with a professional driver to teach us about the cars we would be driving and our lines on the track. We had Rusty Robinson as our pro. Her loaded us in a van an gave us a tour of the speedway showing us where our tires should line up at ion the track and how to follow him around the track. They use flags to make sure you are doing things right. They don't have any other communications for you when you are driving the car. He explained that we were not aloud to pass him and he would wave us off if we went too fast. (TOO FAST?) Isn't that the point. He explained what to expect with this type of race car. I was now so nervous I couldn't talk.
Next we had a drivers meeting and they made the order we would be going in. I was going off second. They called me up and gave me a helmet and HANS device.(The HANS (Head and Neck Support) resembles a collar and slides on like a football players' shoulder pads, then hooks onto the helmet.) Then I crawled in. It was fairly easy until I couldn't get my big head in with the HANS and helmet on. We had to remove it while I got in and then put it on. Makes better sense to me anyway. Now I'm strapped in and I fire up the car (technically the fire it up). I take off following Rusty down pit row. We hit the track and wow what a feeling. I'm speeding around the one of the fastest tracks in the world. The fist two laps I was clocked at 130 mph. It took getting used to and I know my time was short so I started to push my lead car. Rusty waved me off but picked up speed. I hung back the requested 4 car lengths and by lap 4 was turning lap speeds of 145 mph. It was awesome. You cant put the feeling into proper words. The car felt like it was going 200 mph. When the checker flag came out I was sure I had a new track record. I did do the maximum speed allowed at 145. It was a dream come true.
Next they had a ceremony and gave us our certificates of completion. This will be a day I remember for the rest of my life. Thank you Mike From
The Parts House
and Thank You Jack "Hammer" Cameron from
Timken Bearings
.
Just suited up.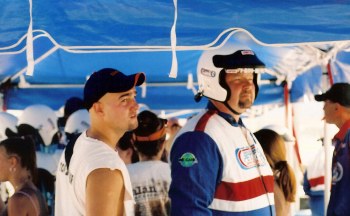 Waiting with my son, Ryan.
Almost ready....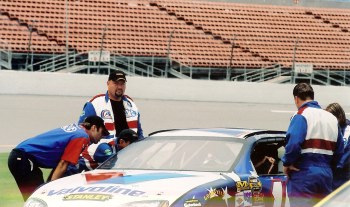 Learning about the cars.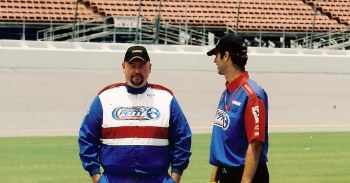 Getting last minute advice.
Getting the helmet on.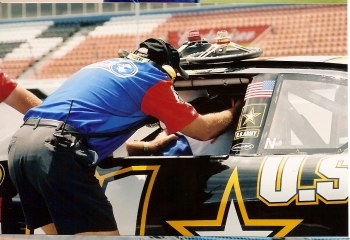 HANS on and here I go.
There I am. Filling in for Joe Nemechek.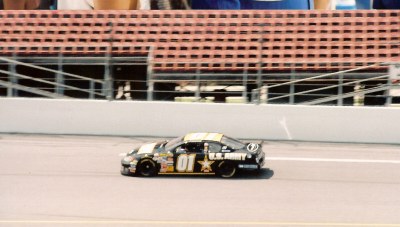 In my glory.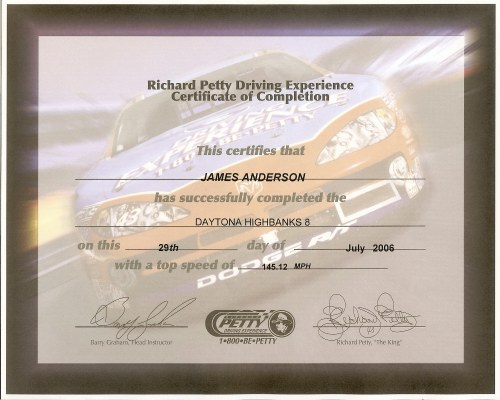 Do you have one of these yet?
Fits like a glove.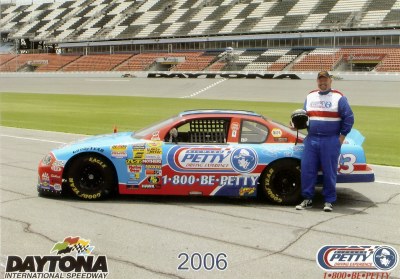 Look out Ricky Bobby!
Send mail to
E-MAIL
with questions
or comments about this web site.
Copyright © 2011 Tiny's Car & Truck Repair LLC Inc
Last modified: 07/19/2011