|
home
Belts & Hoses
Did You Know?
The best way to check for hidden coolant hose failure is to squeeze the hose at the ends. If the ends feel softer that the mid-section, the hose could fail unexpectedly. It should be replaced immediately.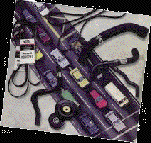 Tiny's Tips
Belts & Hoses
When Should I change my belts and hoses?
The hoses and belts should be replaced at 30,000 to 45,000 miles, or every 3 years. It is best to do a total belt and/or hose replacement just before the hot summertime. Ask for hoses and belts that carry a lifetime warranty. Expect to pay between $8 to $30 for each v-belt (depending on the belt length) and between $15 to $80 for each wide, multi ribbed serpentine belt. Labor charges depend on the engine type and at least ten other variables. And remember that 99% of the time a serpentine belt (multi ribbed flat belt) brakes, it is caused by a bad pulley.
Remember to make sure you ask for your old belts and radiator hoses back. Put them in your trunk. You know they fit your car, they came off your car. If you get stuck in a small town on a Sunday morning with a blown radiator hose or a bad fan belt, you'll be glad you had them.
We sell Gates hoses and belts. They have a lifetime guarantee and have a complete line of replacement hoses and belts for all cars.
Send mail to
E-MAIL
with questions
or comments about this web site.
Copyright © 2011 Tiny's Auto & Truck Repair Service
Last modified: 03/11/2003