|
home
Brakes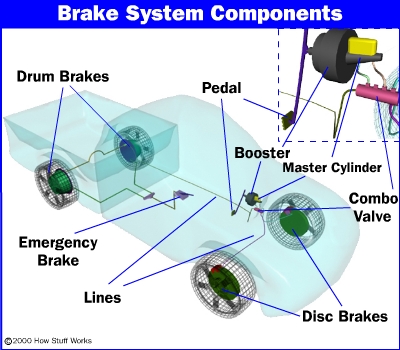 Layout of typical brake system
Tiny's Tips
Brake Service
The 3 most important things on your car are 1. Brakes 2. Tires 3. Wipers.
Bad Brakes... cant stop. Bad Tires... Can't control the vehicle. And bad wipers... cant see what it is you're about to hit! Never replace your brakes with inexpensive or cheap parts; it is your life you have to stop here. Now, if you drive like my girlfriend, you replace front brakes every time you do an oil change. If your more like the majority of us, Brakes last 30,000 to 50,000 miles on the front and twice that length on the rear. That's because the front brakes do the most work. The rear brakes just drag so the car stays straight, And now with most vehicles have Anti Lock Brakes they wear even longer.
Most Brake jobs cost about $100.00 per axle if they are replaced as a regular maintenance item. If you wait too long or go to some of the franchise shops that pay their help on a commission basis, expect to pay up to $500.00 per axle. I've seen worst than that.
A good technician can read the old disc brake pads and tell if everything is okay. If the inside pad is worn more than the outside one, the caliper needs to be serviced because it's hanging up. If the outside pad is worn more than the inside one, the mounting hardware is causing the caliper to hang up. This repair should include the replacement of the mounting hardware. Otherwise, if there isn't a symptom, then don't do a repair.
I think brake repair is one of the areas that are oversold. I think too many wheel cylinders and calipers are replaced and/or rebuilt because of technician commission. Brake repair, suspension work and shock and strut replacements are the areas you're most likely to be taken advantage of.
Send mail to
E-MAIL
with questions
or comments about this web site.
Copyright © 2011 Tiny's Auto & Truck Repair Service
Last modified: 03/11/2003